A-Grade Tea Tree Hydrosol - 2 litres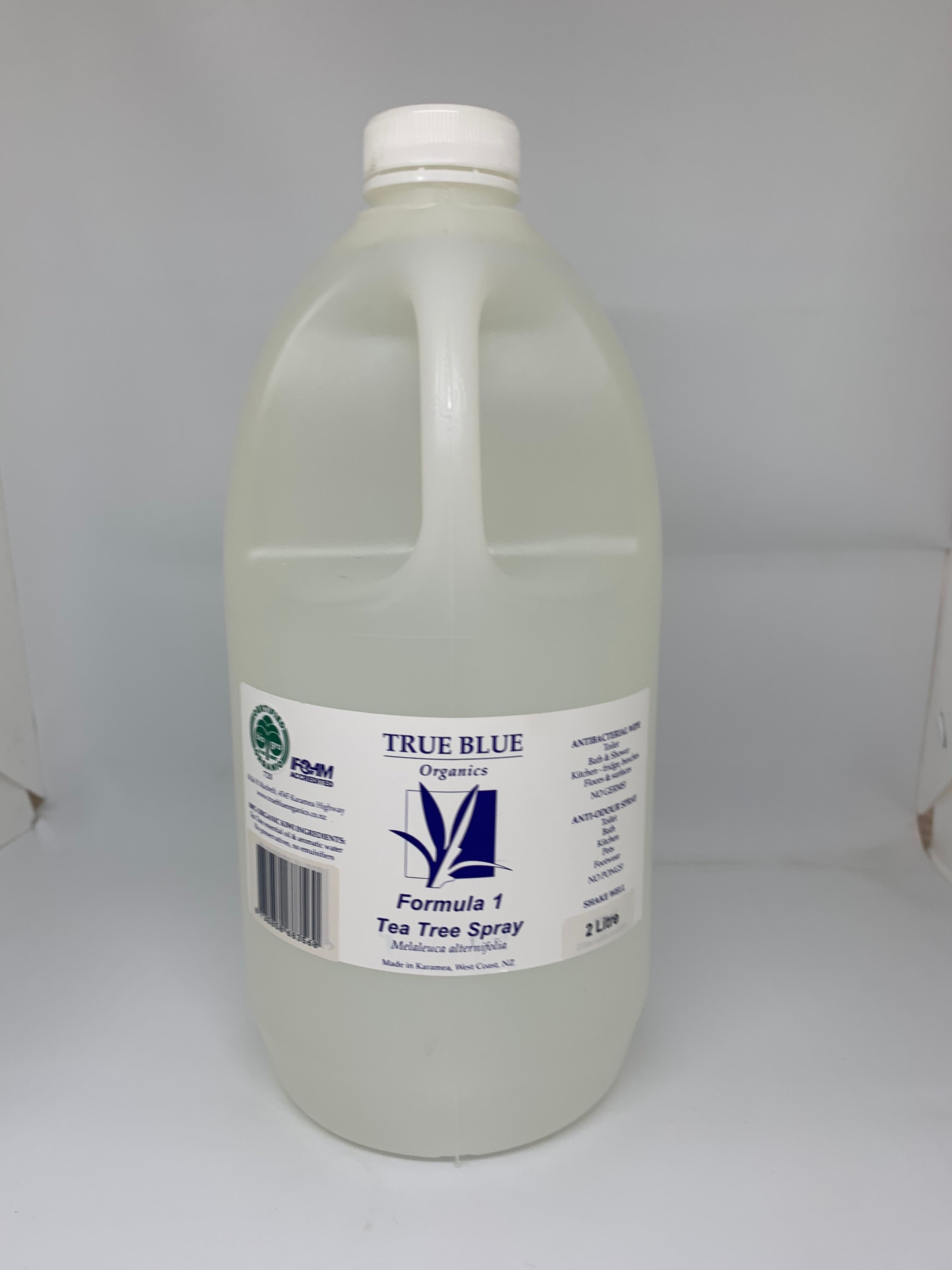 Description
Tea Tree Hydrosol Formula 1  is a unique certified organic cleaner and air purifier containing Tea Tree hydrosol supercharged with Tea Tree essential oil for added potency.
Made in New Zealand.  When the Melaleuca plants are steam distilled to extract the essential oil, the Tea Tree hydrosol, or aromatic water, is a natural byproduct of this process.

This sterile condensed steam contains all the antibacterial and antifungal effects of Tea Tree essential oil in a naturally diluted form.
It performs well as an antibacterial wipe for all surfaces. It neutralises kitchen and bathroom odours.
Use Formula 1 as a general laundry soak – it removes unpleasant smells from clothes and acts as an effective disinfectant for cotton nappies and potties. Great for animal stains and smells and for deodorising litter trays.  It is also ideal for backs of curtains - a light spray to mitigate any mould spores forming - it leaves no oil spots).
No emulsifiers or preservatives. Biogro certified.
Many ask what is the difference between our TTO Liquid Spray and the Hydrosol spray? The key ingredient is the same, however the TTO Liquid Spray is stronger and more suited to mould applications including around window sills and targets difficult areas to manage with its powerful trigger nozzle.  Our Hydrosol, is general purpose with the droplets of oil held in suspension.
Teatree hydrosol is said to have strong disinfectant, antibacterial, anti-fungal, astringent and anti-inflammatory properties, making it great for acne prevention and treatment. The astringent component can tighten, tone and firm skin as well as shrink large pores and reduce excess oil whilst its anti-inflammatory qualities can be soothing on irritated skin. Teatree hydrosol can also be sprayed on hair and make up brushes as a soft disinfectant.